45+ Photos That Show How Mind Boggling Our World Really Is
The world is a strange place. And it only seems like it's getting weirder. But that's not necessarily a bad thing.
Weird can be wonderful. Phenomenal even. Weird only means that it's strange to us because its something that we've never seen before.
Or something that completely boggles our minds. And if that's the case then there's always room for weird. So that' why we've compiled some of the most unforgettably odd photos we could find.
Here Are 45+ Unforgettable Photos That Show How Mind Boggling Our World Really Is:
1) Up or Down?
Are we looking up or down in this photo? It's hard to dell. It looks like something out of "The Matrix."
2) Strong Genetics
The genes are strong in this family. Their parents are like copy machines. They all basically have the same exact face.
3) Gateway to the Stars
This road looks like t leads to a house that's a spaceship that will launch you into space. Like it will give you a direct flight to the stars. Like a direct flight to heaven.
4) Clear Flowers
These flowers become transparent when it rains. They are called diphylleia. They are only found in three parts of the world: Japan, China, and Appalachia in the U.S.
5) Some Cats Like Weird Things
Cats are particular about the things they like. Some cats eat cheese, other wonh't touch human food at all. This cat likes his apples.
6) Cross Dressing That Isn't Considered Cross-Dressing
How is that not weird? This guy is wearing a skirt. But it's considered traditional rather than cross-dressing
7) Wedding Fail
This photographer fell during this wedding photoshoot. He just happened to catch the wedding party's reaction. It's the look of horror.
8) Happy Faceplant
This elephant looks like he did a serious faceplant. But he also looks so happy about it. And like he's laughing hysterically about it."
9) Keeping Up With Current Events
Nothing to see here. Just a monkey reading the news. Wearing a toupee? He looks like someone gave him a terrible haircut.
10) Is It A Painting Or A Photo?
I can't tell if this is a painting or a real photo. But it's a real photo. It's Mt. Bromo at sunrise.
Source: Felix Indarta
11) Fairy Cabin
Want to live in a fairy cabin? Well, you can. A company called The Rustic Way makes thems. You can find them here.
Source: Rustic
12) Upside Down Owl
This owl likes to know his surroundings. He will contort his body just to keep an eye on you. In this case he's upside down.
Source: Laukik Bajpai
13) Letting Loose
Sometimes you just need to let loose. Like this giant whale. Being all free and stuff.
Source: YOURSHOT
14) Unreal Real
It's another photo that looks like a painting. But this place is very real. It's the Norwegian Fjords.
Source: wykop
15) Glacier Walking
In this world, you can walk between glaciers. And that's what this guy is doing. Talk about being between a rock in a hard place.
Source: National Geographic
16) Horse On Horse
No that isn't a paint job. Or a tiny white horse on her back. It's a horse with markings that look like a white horse.
Source: googleusercontent
17) Grasping the Sun
Look at this little squirrel for seizing the day. It looks like he's trying to grab the son. He almost got it!
Source: National Geographic
18) Good Morning!
This little mouse is just peeking his head out. He's looking to see if it's safe to take a morning stroll. Looks like the coast is clear.
Source: Cezary Wyszynski
19) Flying Monks
These are some Buddhist monks running back to the monastery for dinner. One appears to be flying. The other following close behind.
Source: Cezary Wyszynski
20) Storybook Land
This place looks straight out of a storybook. You know there's an evil queen living in that castle. It's really a temple in Bagan, Mynamar.
Source: Каримов Жахонгир
21) Getting Cozy
Everyone likes to get cozy. Even this guy. He's all curled up in the cozy position.
Source: National Geographic
22) The Score
This guy scored big. He found a big juicy berry. What an amazing mpment to capture.
Source: Науменко Екатерина
23) Dolce Far Niente
The sweetness of doing nothing. Even this bear gets it. He's just sitting around enjoying the moment.
24) Colors
It's amazing how incredibly colorful our world is. Thjis incredible landscape has more than a dozen different colors in it. I see whites, greys, blues, oranges browns, reds, and even purples.
Source: Biryukov Yuriy
25) All Moms Are Fierce
Animals ar emore alike us than they are different. This mother is just as protective of her children as any human mom is. Maybe even a little more.
Source: National Geographic
26) Giants Among Us
Did you know that there are giants among us? This giant claw believes to a juvenile Crowned Eagle. That thing isn't even full grown.
Source: Imgur
27) Horse Lunges
These are lungs. They are the fully inflated lungs of a horse. And they are huge.
Source: Nomadxl
28) Dead Guy's Passport
Eqypt must be strict about their flying policies. They even issue a passport to a dead king. The mummy of Pharoah Ramesses II was issued a passport so he could fly to Paris.
Source: GallowBoob
29) Floating Ramen
No, this isn't an art piece or optical illusion. This is a bowl of Ramen. A bowl of Raem at –60°.
Source: Flickr/ESA_events
30) Pricey Grapes
These are some pretty pricey grapes. They are so pricey that they are sold individuall. They are $12 a pop.
Source: eddit
31) Sick Sinks
These can be found in Germany. They are sick sinks for people to vomit in when they're drunk. My favorite is the handles bars. You know you're in bad shape when you need a good grip for your puking.
Source: pikab
32) Miscalculation?
This plane is too big for the hanger.They still wanted to store it there though. They cut a hole in the hanger door to make it fit.
Source: brandom9582
33) Compact Genius
The things they come up with to save space are simply incredible. Take this piece for example. It's a stink, stove, and refrigerator combo.
Source: Reddit
34) Ahh Choo!
We've all made this same exact face. This is the face of someone about to sneeze. So here we have a white deer about to sneeze.
Source: pikabu
35) Giant Fruits
Technically, pumpkins are fruit. And this is one big piece of fruit. People even have contests to see who can grow the biggest pumpkins.
Source: pikabu.r
36) Another Contest Winner
This guy looks like a contest winner. At least his giant carrot does. It's actually multiple carrots.
37) Button Pile
Someone tossed out a lot ofbuttons. And this is how they ended up. Looks kind of cool.
38) Volcano Sink
This sink is pretty cool looking. It's made of igneous rock. Also known as volcanic lava.
Source: bog_warrior
39) Moon Walk
This is what it looks like from the moon. That sliver of light is the Earth. It looks a lot like the moon does from Earth.
40) Cow Milk Yogurt
Most of the time we eat our food without even thinking about where it came from. This yogurt won't let you do that. It reminds you that it came from living breathing cows who are obviously loved and have their own names on the bottle.
Source: Everdale
41) Beehive Highway
This is what a beehive looks like. Well a time lapse version of a beehive. It's pretty amazing.
Source: King_Toad
42) Concentric Circles
Can you guess how manhy dice are here? There are 25,000 little dice in here. They were agitated in a cylinder to form concentric circles.
Source: Live4GC
43) Brail Globe
Look at this beautiful piece. It's no ordinarly globe. It's a braile globe used by those who are blind.
Source: Deathman
44) Street Art
There are some pretty incredible example of street art these days. This is one of them. The reflection of a human in another's eye.
Source: Alphatek666
45) Pencils That Give Back
These pencils take from the Earth in order to be produced. But it also gives back. If you plant that cap it will grow into a tomato, coriander, or chili.
46) Self Basket Checkout
This is a self check-out machine. You place your entire basket in the bottom. It totals everything and then you payt and bag your stuff.
Source: juxtaposasian
47) Milk Deliveries
Instead of Amazon, people used to get milk delievered to their homes. Some houses had special doors where the milkman could drop their milk. This is one of them.
Source: Mgdisney22
48) Magnetic Putty
This is a metal ball is some magnetic putty. Pretty cool huh!?! This is oddly satisfying.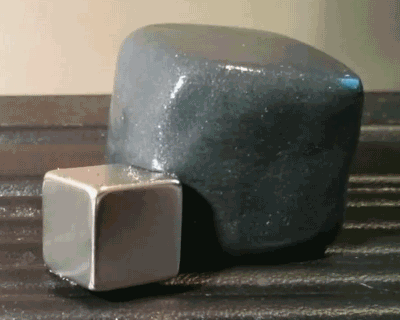 49) Cash Money
Sanitation workers find a lot of strange things. Especially this one. He found $500,000 in cash.
Source: Crimrr_Halfpaw
50) Snakes on a Carpet
Snakes and carpets don't get along to see. The text freaks snakes out and make it hard for them to get traction. It's pretty funny to watch.
Please SHARE this with your friends and family.
Lazy People Solutions That Defy Common Sense
There's the right way of doing things, and then there's the wrong way of doing things. But how can a solution be wrong when it's faster? This is how.
Every day, we go through small internal battles. We argue with ourselves over doing things right or doing things fast. The 40 people ahead all opted to do things fast. And the consequences came even faster as a result!
It's as good as new.
If you look closely, you'll be able to see that some of the column uses new wood. Thanks to this restoration, the roof that the column's holding up should stay in place for weeks. Warning: Do not play Jenga with this!
For once, the sockets are making the right expression
Drilling metal screws into the plugs? What could possibly go wrong? The weird thing about this one is that it actually took some effort to do something so stupid.
Looks sturdy
Calm down, there's some plastic tape. No one could possibly walk over the gap with that tape in place. Right?
10+ People That Had No Idea How Attractive They Were Until They Worked To Improve Themselves
Sometimes when your health is out of balance you can't see yourself clearly. When people struggle with something physical, like weight, they can't always see how beautiful they really are. These people didn't even realize how attractive they were until they worked on themselves, but now they can celebrate their appearances every day.
These 30 people have powerful stories, and their transformations are absolutely amazing. Their messages are so inspiring.
"I lost 100 lbs, and I feel great."
"It took me 2 years and 3 months to get in shape. It sounds like a lot of time, but it was well worth it."
"I made true friends, and they helped me to have a more active lifestyle. That's how I managed to lose weight. Now I can communicate with any person."
"The difference between these 2 photos is 4 years. And I was even used to not enjoying what I looked like."
"Me when I was 19 and 21."
"I was depressed because of the way I looked. I didn't even want to live. But I decided that I was able to change everything, so I started losing weight… I feel great, and I'm enjoying my life!"
"I didn't use to be really fat. I had a hard time choosing the right hairstyle."
"I used to weigh 60 lb, now I weigh 90, and I keep working on my body."
"3 years between these photos. Some people don't believe that it's me."
"So much has changed in 3 years! Before, I didn't get out much. I was very shy. Now we live in a time when changing your appearance is very easy."
"Just 4 years, and this is what I've become (I'm on the right)."
"I started reading all the time. I read a lot. This is how I started changing psychologically and emotionally… This is how I found the answer for me."
"I have to admit, I couldn't lose weight myself for a very, very long time. A really professional doctor helped me a lot."
"I didn't do anything special, but I'm not ugly anymore."
"I restored what was destroyed by 20 years of McDonald's and Coke."
"15 months later I finally have a chin! Now I'm doing everything I can to maintain my weight."
"I lost 100 lb, and I keep working on my body."
"The difference is just 4 years. I was a nerd, and now I'm a macho."
"The difference between these photos is 25 months. I had always been fat, so I decided that I could lose weight."
"My weight was 330 lb when I finally decided to start losing weight… But now I have a new goal — 180 lb. I've started my way to it! I wish you luck too."
"The difference between these photos is 20 months. I lost weight, and now I'm not shy about the natural structure of my hair."
"This is my progress."
"Now I am 25, I lost 120 lb, and I work out every day."
"This is my boyfriend at the age of 16 and 21. It's hard to tell that it's the same person."
"A short time ago, I realized that the most important thing is to care about your appearance properly, feel good, and be a confident and interesting person."
"I felt overwhelmed, but I decided to take one day at a time. I didn't know if I would live or die. I just knew that I had to focus on the day I was living. I had a 'lose weight or die trying' mentality."
"I knew I owed it to my son to try to break the family tree of obesity. There are so many compromises to being an obese parent: I was simply forfeiting the ability to participate in so many wonderful moments."
"As the pounds started to come off, I noticed a change, but others didn't — until the day I appeared outside of my office standing up."
"My goal is to train and inspire people to show them that the weight loss is possible."
"My dad pushed me and motivated me to start working out. He would tell me he wanted me to be around for a long time."
These people have some incredible transformations, and their messages are so motivational.
Please SHARE this with your friends and family.
50 Cringeworthy Fashion Fails We Can't Believe People Didn't Notice
Not all of us are fashion experts. This is why we try to experiment and mix and match clothes to see if we can look more stylish. Unfortunately, the more we try to look more fashionable, the more we end up failing. The risky fashion choice we make often leaves us looking ridiculous and weird in other people's eyes.
Fortunately, fashion disasters aren't always bad. In fact, they can be transformed into little entertainment and also a warning for others to never try to copy them.
Here are the most cringe-worthy fashion fails you need to see this year:
1. Brown logo on white shoes
In theory, putting a brown logo on a white background will make a product look classy. In reality, a brown logo on white shoes just looks like bird poo from afar.
2. A not-so-comfortable evening dress
This is probably one of the most uncomfortable dresses you'll see. I don't think you'll have a great time wearing this to a party or anywhere.
3. When you accidentally stepped on something
This is actually a good pair of shoes if you always walk on mud or dirt. You won't have to worry about cleaning your shoes. Plus, its design can work as camouflage for when you accidentally stepped on your dog's poo.
4. Undecided
Will you give up or will you never give up? Well, it's a good shirt to wear if you still can't decide. At least, you're letting other people know where you stand.