People Prove Their Job Is More Difficult Than Yours In 30 Photos
Do you think that your job is tough? Well, think again. Unless you find yourself doing the work that's in the following 30 slides, your job may not be as difficult as you think. Sure, everyone has a rough day at work where nothing seems to go right, but some jobs invite that scenario much more often than others. So check out this list of difficult jobs and remember to be grateful the next time that you're working through a long day at your desk–because it could be worse, much worse.
1. Precarious Landing
As a helicopter pilot, your job is already more difficult than most. But this helicopter pilot just took things to a whole new level. Sometimes, the hardest jobs get even harder.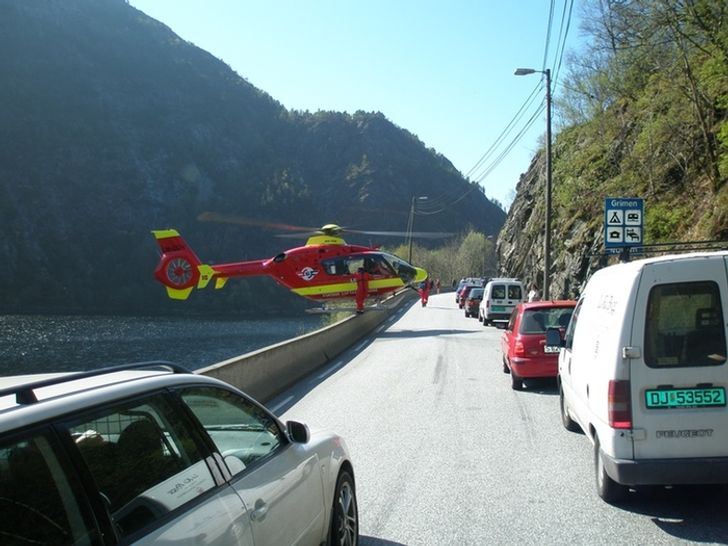 2. Left For Vacation
When you work from your laptop to make a living, having it crash or break can be devastating. But how about when it infinitely configures updates and never stops? That can be just as bad. This worker forgot to turn off his laptop before he left for vacation and this is what it did…the entire time that he was away. It's up to 20760% and counting.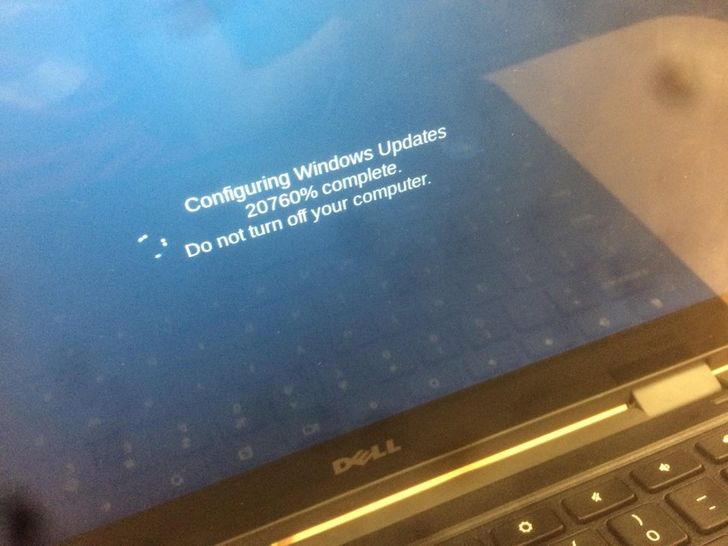 3. S.W.A.T.
Being on a S.W.A.T team is no joke. These guys have one of the most difficult jobs there is–mainly for the fact that their life is in danger almost every time they go to work. But just like any job, some days go better than others. And this certainly was not a good day.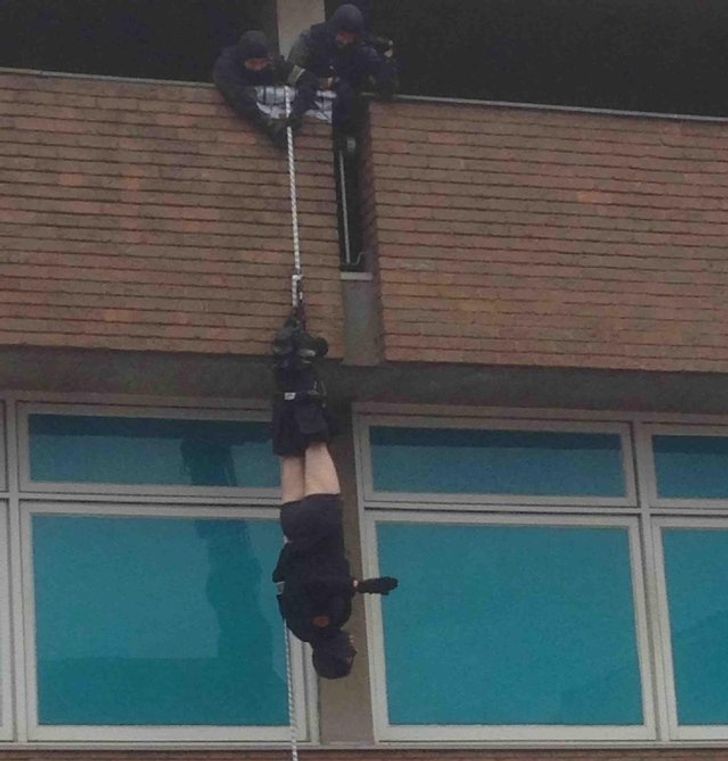 4. Night Manager
Meet the new night manager, Derek. He's loyal to the company and a very hard worker–that is if there isn't a basket of treats in front of him. I don't care how hard you think your job is, it's harder for a dog to ignore a basket of treats and remain working at his desk all night. Way to go, Derek.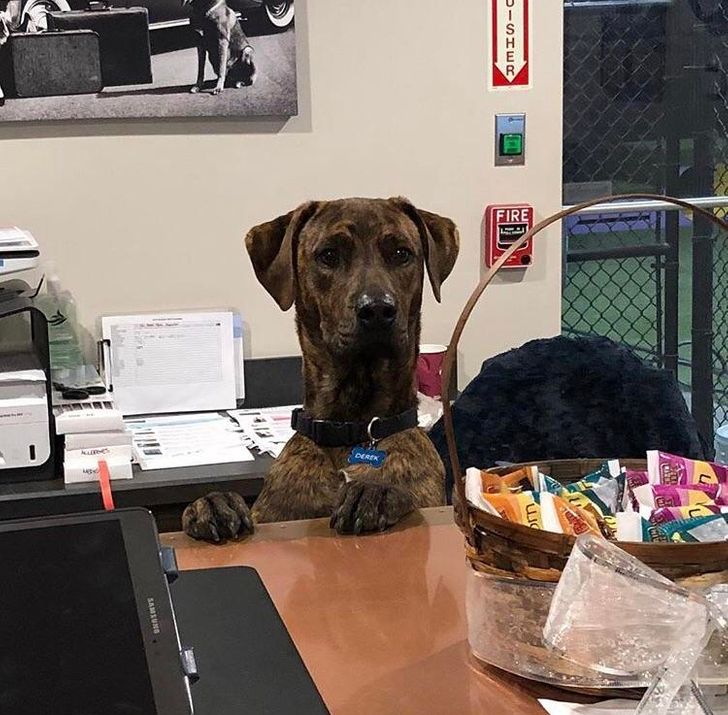 5. Milk-Tastrophe
Stacking pallets is no easy job. There's always the potential to make a big mess. Luckily for this guy, no one was hurt and he got to take an awesome selfie as well. As long as he gets it cleaned up before the boss shows up, I think he'll be just fine.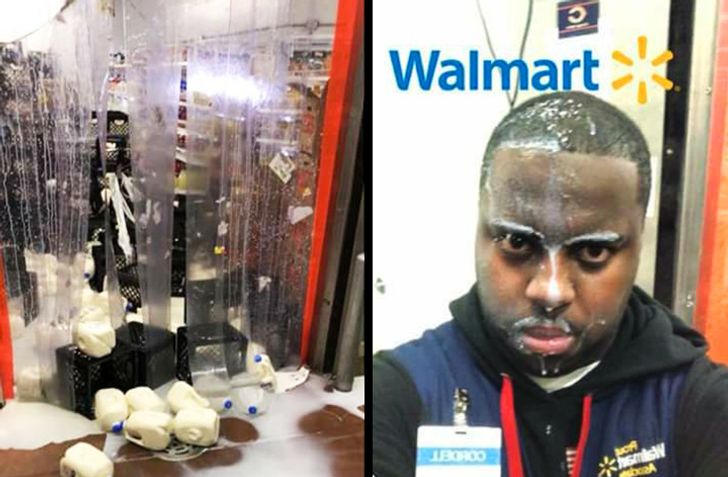 6. Too Many Cameras
One of the downsides of working in television is that there is always a camera on you. They are there to catch you on your worst days and broadcast it to the world. And in the case of this anchorwoman, she can't even hide her past mistakes from the camera. Maybe she should have worn pants?
---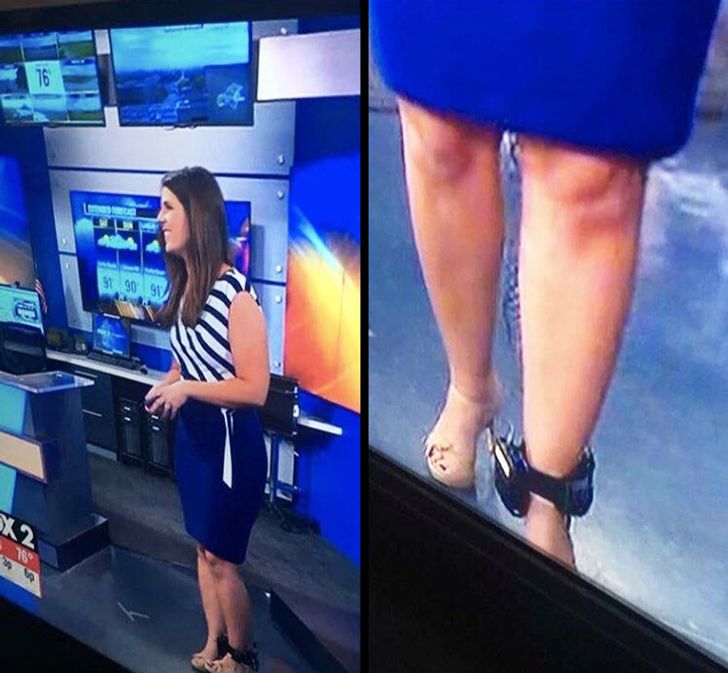 7. Green Lamps
Working inside, under the lights all day can take its toll. But not as much as when your company replaces the lights in the building and they have a slight green tint to them. Now, these employees feel like they are on the set of Alien every time that they come into work.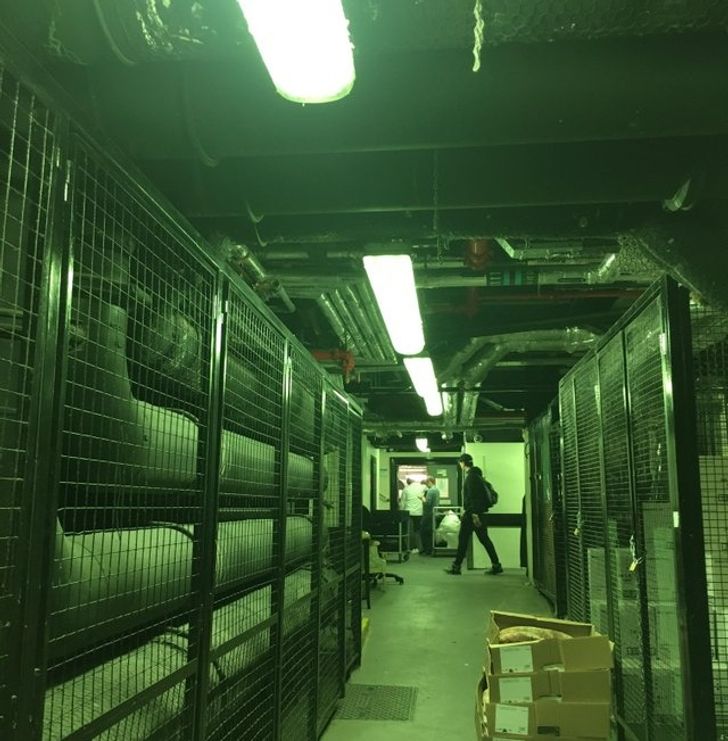 8. Working In The Great Outdoors
Everybody dreams of having a job where they get to work outside in beautiful places. But the one thing that they seem to forget is that there are giant man-killing predators out there in the great outdoors. So the next time that you're feeling bored at your desk, just be thankful that nothing can eat you there.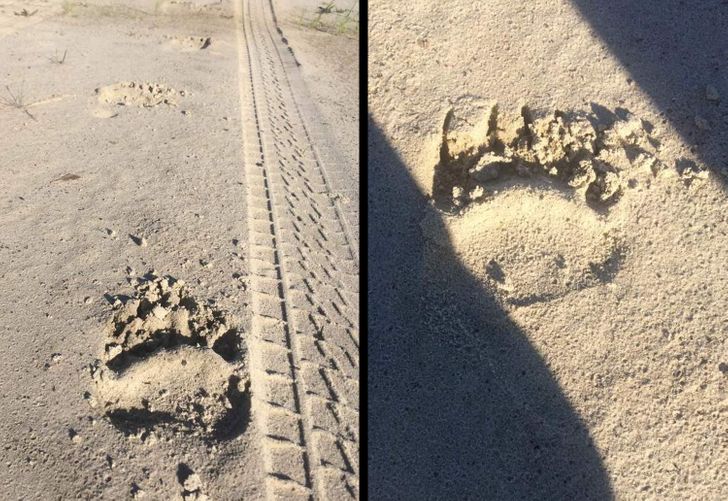 9. Mine
There's nothing worse than working with selfish people. They make it harder for everyone else at work to get things done. Take this guy for example– you really couldn't share your table grips? I mean, they're bolted to the table, I don't think anyone will be running off with them anytime soon.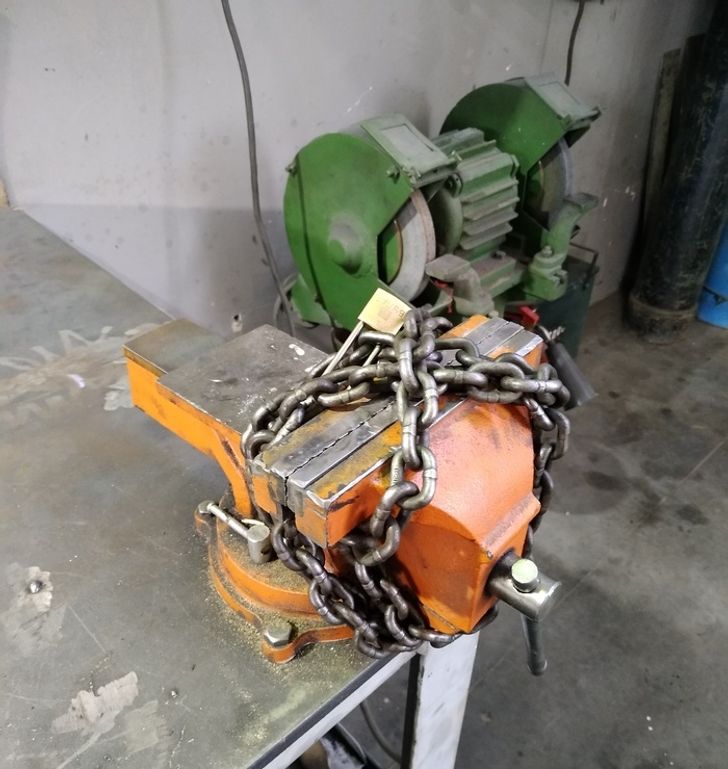 10. Wind Sweep
There's nothing worse than sweeping in the wind. You can't make any progress and no matter how hard you try, the job just isn't getting done. But when your boss says to do something, you better do it.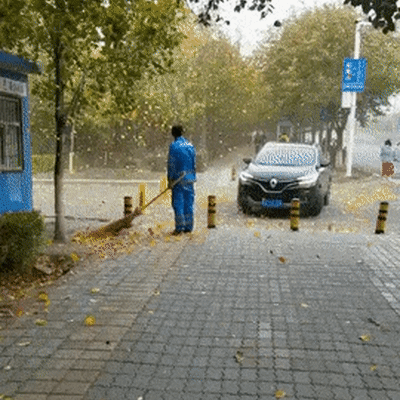 11. Work From Home
Working from home isn't always as easy as it sounds. Sure you don't have to deal with long commutes or frustrating coworkers, but you do have to deal with this. And the worst part is, no one is there to tell you to get to work. So you might just end up cuddling with your pup all day.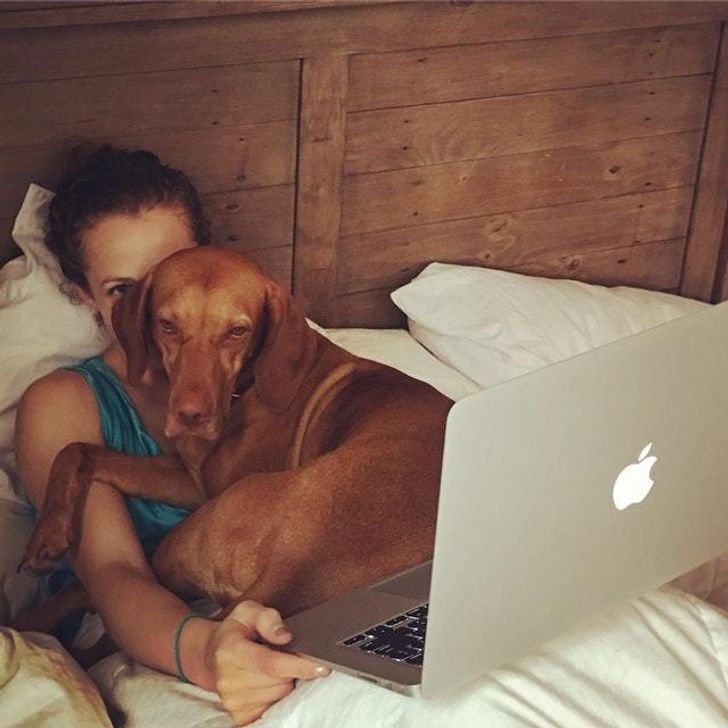 12. Air Traffic
Being a pilot is a difficult job. You have thousands of people trusting you with their lives every single day. And sometimes, the skies aren't as open as they seem.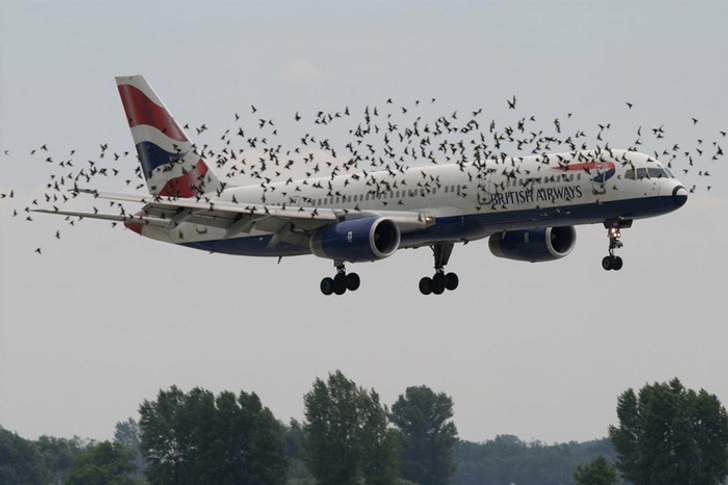 13. Asphalt Tank
There are some dirty jobs out there that have to get done. And this worker isn't afraid to get a little dirty on the job. Believe it or not, that suit they are wearing used to be yellow.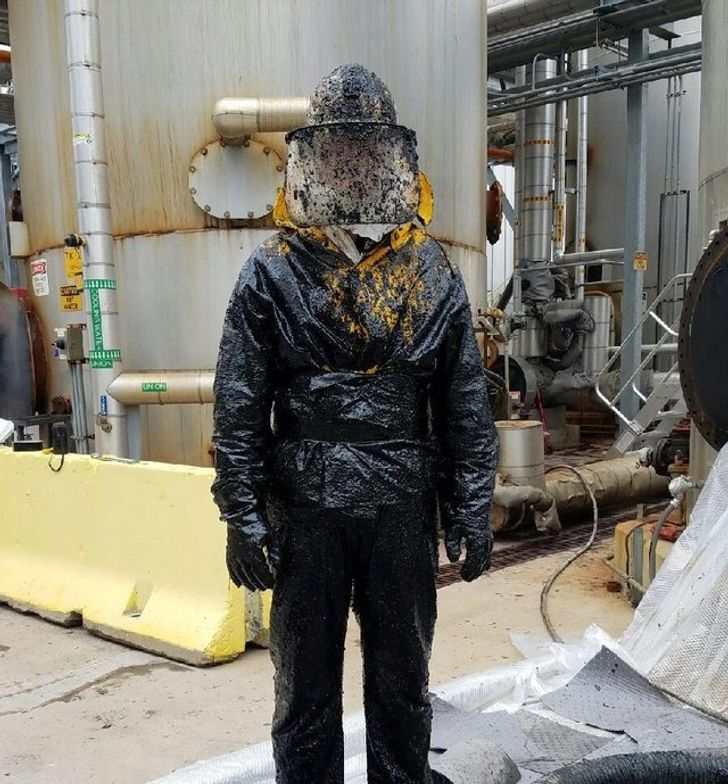 14. How Long Can You Hold Your Breath?
When you've got a broken pipe and no way to stop the flow, you've got to get creative. This guy knew that the only way to complete this difficult job was to take a deep breath and dive right in. Hopefully, it was a hot day.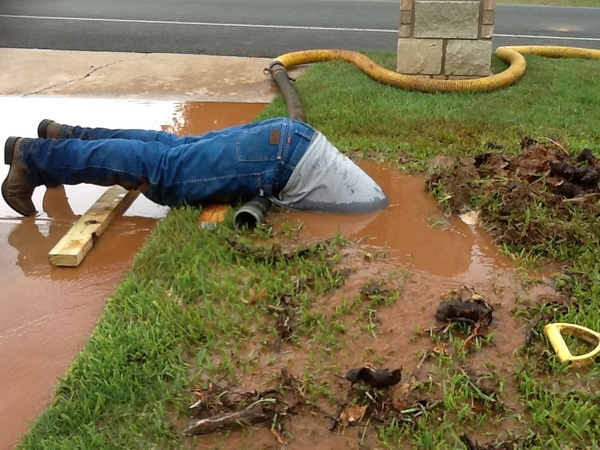 15. Volleyball Interview
Interviewing someone can be tough. You've got to ask important questions and come up with engaging content. But when the person that you're interviewing is a foot taller than you, it makes your job even more difficult. This reporter wasn't phased, however, and with a little ingenuity, she got the job done.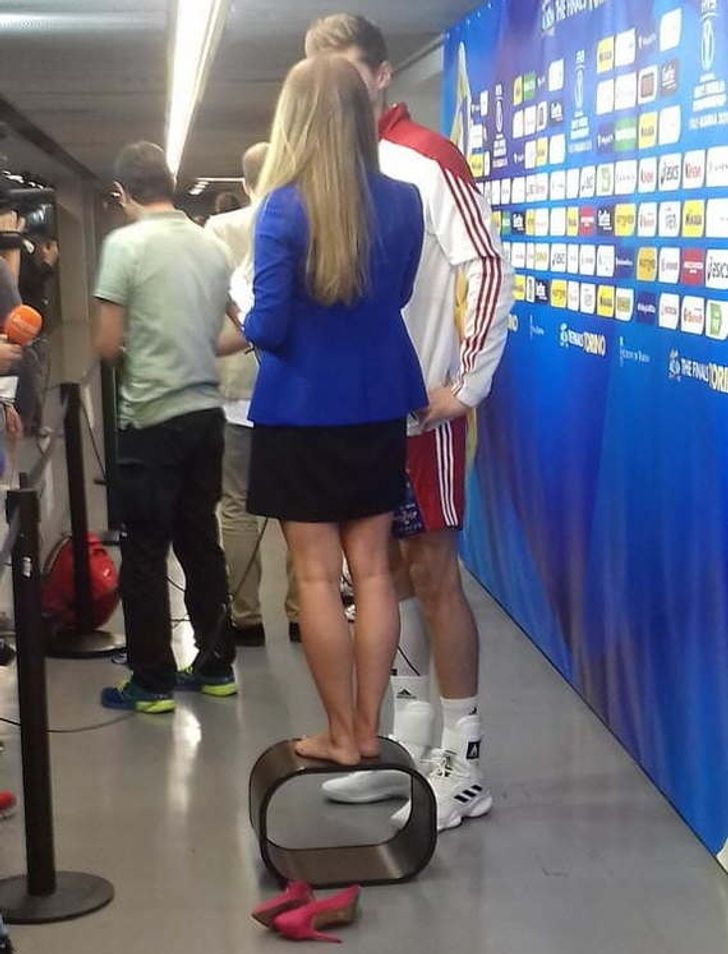 16. Tricky Electrical
Electrical work is hard enough when the wires aren't tangled up into a rat's nest. But when they are, there's nothing you can do but get to work. Now let's see, do you snip the blue wire or the red wire…?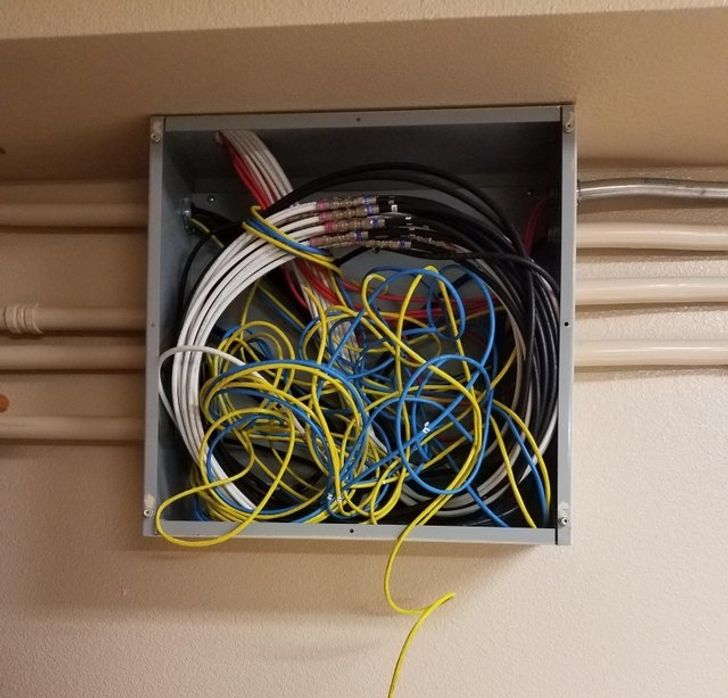 17. Powerline Worker
Speaking of electrical work, being a powerline worker is another extremely difficult job. With powerline work, the possibility of getting killed or losing limbs is very real. This group of workers is being trained to work on power lines. I hope they are paying attention.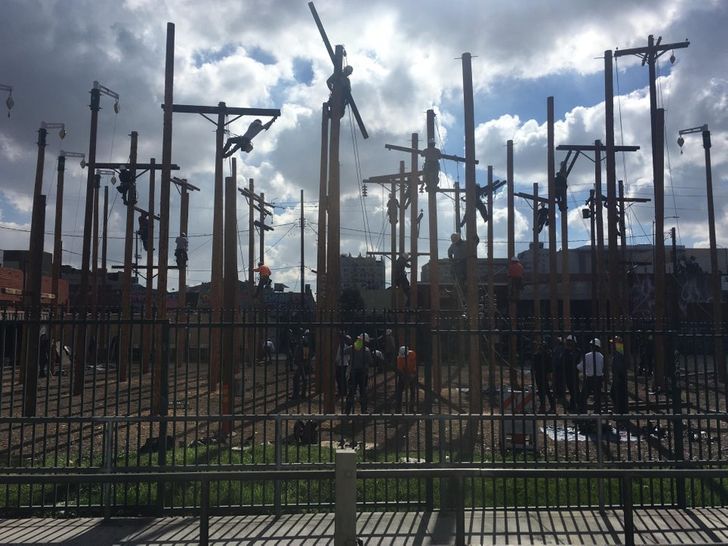 18. Logger
One of the most dangerous jobs out there is logging. These guys have to cut down enormous trees that have the ability to turn a person into a pancake. And all this while they are running giant motorized saws that could cut a man in half. Yep, I'd say that this job is more difficult than mine.
19. Cave Diver
There is a lot of training involved in becoming a cave diver. And because of this, it is one of the more difficult jobs out there. Sure it seems cool, but the risk of drowning may not be entirely worth it.
20. Oil Rig Worker
Working on an oil rig is no easy gig. These guys will sometimes live out on this metal island for weeks or even months before finally going back home for a bit. And when you're out there, you are working. There's not a whole lot of downtime.
21. Underwater Welder
Welding is a difficult skill to master–and so is diving. Now imagine doing both of these things at the same time as an underwater welder does. It's no surprise that this job tends to be pretty dangerous, so on top of the difficult task that you are performing, you also have to think about the fact that you may drown. Now that's a tough day's work.
22. Crab Fisherman
One of the deadliest jobs out there is crab fishing in the Bering Sea. There is a big payout each year if you have a good season, but it doesn't come without risk. If you don't get thrown overboard into the icy waves, then you have all of the giant machinery on the ship to contend with. Either way, you better be ready for work each day.
23. Microchip Manufacturer
This one may come as a surprise, but manufacturing microchips is extremely difficult. Not just because of the science and engineering involved in putting one of these things together, but also because of the hazardous chemicals used to make these chips. And even if you don't have any effects from these chemicals right away, they often end up causing long-term damage in the future.
24. Bush Pilot
We already went over why being a pilot was such a difficult job. But, now imagine doing it in some of the most remote places in the world. And not only that, but these places usually have some of the harshest weather to deal with as well. Welcome to the reality of being a bush pilot.
25. Bull Rider
I think this image speaks for itself. Sure there is plenty of money and glory for those riders who can stay on their bull long enough, but to me, the risk just isn't worth it. Broken bones and concussions are a constant reality for these bull riders. I think I'll keep my day job.
26. Steel Worker
Although safety precausions have gotten better over the years, being a steel worker is still a difficult job. You're constantly dealing with massive heights, inclement weather, and the potential for serious injury or even death. But you know what? You can't beat the view.
27. Snake Milker
I didn't even know that this was a job. But it is, and it's a very important job at that. These snake milkers collect venom from the snakes in order to create much needed anti-venom in order to save lives. But I'll let you what, this is one job that I'll never try.
28. Miner
People have been mining for a long time. And thankfully, mining practices have become safer over the years. But being a miner doesn't come without any risk. People still die in mines today and if you don't die on the job, the long-term health effects of mining may get you one day.
29. Stunt Preformer
Although this job seems more cool than difficult, don't be fooled. Stunt performers have to put their bodies on the line in order to get paid. Most stunt performers will suffer multiple injuries throughout their career–it just comes with the job.
30. Storm Chaser
When most of us see a tornado or hurricane, we go looking for shelter–but not storm chasers. These guys actually seek out storms, getting as close to them as humanly possible. This guy looks like he may be regretting his career choice.
Please SHARE this with your friends and family.
Lazy People Solutions That Defy Common Sense
There's the right way of doing things, and then there's the wrong way of doing things. But how can a solution be wrong when it's faster? This is how.
Every day, we go through small internal battles. We argue with ourselves over doing things right or doing things fast. The 40 people ahead all opted to do things fast. And the consequences came even faster as a result!
It's as good as new.
If you look closely, you'll be able to see that some of the column uses new wood. Thanks to this restoration, the roof that the column's holding up should stay in place for weeks. Warning: Do not play Jenga with this!
For once, the sockets are making the right expression
Drilling metal screws into the plugs? What could possibly go wrong? The weird thing about this one is that it actually took some effort to do something so stupid.
Looks sturdy
Calm down, there's some plastic tape. No one could possibly walk over the gap with that tape in place. Right?
10+ People That Had No Idea How Attractive They Were Until They Worked To Improve Themselves
Sometimes when your health is out of balance you can't see yourself clearly. When people struggle with something physical, like weight, they can't always see how beautiful they really are. These people didn't even realize how attractive they were until they worked on themselves, but now they can celebrate their appearances every day.
These 30 people have powerful stories, and their transformations are absolutely amazing. Their messages are so inspiring.
"I lost 100 lbs, and I feel great."
"It took me 2 years and 3 months to get in shape. It sounds like a lot of time, but it was well worth it."
"I made true friends, and they helped me to have a more active lifestyle. That's how I managed to lose weight. Now I can communicate with any person."
"The difference between these 2 photos is 4 years. And I was even used to not enjoying what I looked like."
"Me when I was 19 and 21."
"I was depressed because of the way I looked. I didn't even want to live. But I decided that I was able to change everything, so I started losing weight… I feel great, and I'm enjoying my life!"
"I didn't use to be really fat. I had a hard time choosing the right hairstyle."
"I used to weigh 60 lb, now I weigh 90, and I keep working on my body."
"3 years between these photos. Some people don't believe that it's me."
"So much has changed in 3 years! Before, I didn't get out much. I was very shy. Now we live in a time when changing your appearance is very easy."
"Just 4 years, and this is what I've become (I'm on the right)."
"I started reading all the time. I read a lot. This is how I started changing psychologically and emotionally… This is how I found the answer for me."
"I have to admit, I couldn't lose weight myself for a very, very long time. A really professional doctor helped me a lot."
"I didn't do anything special, but I'm not ugly anymore."
"I restored what was destroyed by 20 years of McDonald's and Coke."
"15 months later I finally have a chin! Now I'm doing everything I can to maintain my weight."
"I lost 100 lb, and I keep working on my body."
"The difference is just 4 years. I was a nerd, and now I'm a macho."
"The difference between these photos is 25 months. I had always been fat, so I decided that I could lose weight."
"My weight was 330 lb when I finally decided to start losing weight… But now I have a new goal — 180 lb. I've started my way to it! I wish you luck too."
"The difference between these photos is 20 months. I lost weight, and now I'm not shy about the natural structure of my hair."
"This is my progress."
"Now I am 25, I lost 120 lb, and I work out every day."
"This is my boyfriend at the age of 16 and 21. It's hard to tell that it's the same person."
"A short time ago, I realized that the most important thing is to care about your appearance properly, feel good, and be a confident and interesting person."
"I felt overwhelmed, but I decided to take one day at a time. I didn't know if I would live or die. I just knew that I had to focus on the day I was living. I had a 'lose weight or die trying' mentality."
"I knew I owed it to my son to try to break the family tree of obesity. There are so many compromises to being an obese parent: I was simply forfeiting the ability to participate in so many wonderful moments."
"As the pounds started to come off, I noticed a change, but others didn't — until the day I appeared outside of my office standing up."
"My goal is to train and inspire people to show them that the weight loss is possible."
"My dad pushed me and motivated me to start working out. He would tell me he wanted me to be around for a long time."
These people have some incredible transformations, and their messages are so motivational.
Please SHARE this with your friends and family.
50 Cringeworthy Fashion Fails We Can't Believe People Didn't Notice
Not all of us are fashion experts. This is why we try to experiment and mix and match clothes to see if we can look more stylish. Unfortunately, the more we try to look more fashionable, the more we end up failing. The risky fashion choice we make often leaves us looking ridiculous and weird in other people's eyes.
Fortunately, fashion disasters aren't always bad. In fact, they can be transformed into little entertainment and also a warning for others to never try to copy them.
Here are the most cringe-worthy fashion fails you need to see this year:
1. Brown logo on white shoes
In theory, putting a brown logo on a white background will make a product look classy. In reality, a brown logo on white shoes just looks like bird poo from afar.
2. A not-so-comfortable evening dress
This is probably one of the most uncomfortable dresses you'll see. I don't think you'll have a great time wearing this to a party or anywhere.
3. When you accidentally stepped on something
This is actually a good pair of shoes if you always walk on mud or dirt. You won't have to worry about cleaning your shoes. Plus, its design can work as camouflage for when you accidentally stepped on your dog's poo.
4. Undecided
Will you give up or will you never give up? Well, it's a good shirt to wear if you still can't decide. At least, you're letting other people know where you stand.